Regain Your Happy Smile
When facing the loss of one or more teeth it's only natural to wonder, "Will I ever feel good about my smile again?" The exciting answer is a resounding, "Yes!" At Elliott Bay Dental, we provide beautiful dental implants to Seattle area patients representing a quantum leap forward in tooth loss – it's almost like getting your own tooth back!
What is a dental implant?
A dental implant is a highly sophisticated device that is surgically placed into your jaw bone to replace a single tooth or multiple missing teeth. Acting as the root of a tooth, implants provide an incredibly strong foundation for your tooth-like restoration to be placed, completing the implant process.
What are the benefits of dental implants?
Some tooth replacement options (bridges, dentures, etc.) simply fill the gap left from a missing tooth or teeth. Dental implants replace the root of a tooth itself, adding strength and stability to the tooth, while most importantly preventing further bone loss. Healthy bone is vital to maintaining an attractive gum line and aesthetic smile, making dental implants a wise and long-lasting investment. If left unfilled, your neighboring teeth will shift and twist to fill the missing space, causing an array of problems in your smile.
Other advantages of implants include:
Enhanced strength for chewing
No need to alter adjacent teeth
Easy to care for – brush and floss like normal!
Indistinguishable from your natural teeth
We thought about the questions you might be asking about dental implants and made this informative infographic to provide you with answers. This is a FREE download exclusively designed for our readers. Please download this free gift from us to you.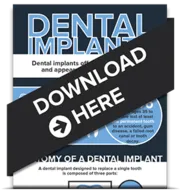 Why should I choose Elliott Bay Dental for my dental implants?
Our comprehensive care sets us apart from other practices. Instead of splitting your treatment among several off-site practitioners, we handle both phases of the implant process under one roof! Our in-house specialists are expertly qualified to place your implants, allowing Drs. Kim and Cervantes-Kim to be intimately involved in the first phase of this special treatment.
In addition, Drs. Kim and Cervantes-Kim's expertise in shaping the gum tissue enables them to achieve superior results when it comes to placing your restoration. A truly natural-looking restoration requires knowledge of the bone, gum, and tooth relationship. Drs. Kim and Cervantes-Kim will take their time with your smile to get everything just right. You'll be amazed when you see the final result!
A practice you can trust.
At Elliott Bay Dental, we pride ourselves on our honesty and integrity. When you visit us for a consultation, Drs. Kim and Cervantes-Kim will thoroughly explain all treatment options in detail, helping you arrive at the best, most conservative solution. Know that we will never suggest a treatment you truly don't need.
For beautiful dental implants in Seattle that will leave you smiling, request your appointment today!